Lyons New Media Centre News
~ Glenny, LNMC Student Employee


Your Idea:
Thinking of your grand Halloween graphic can be a daunting task. The first thing you think of is your idea. First, make sure to think outside the box. Try to think of creative ideas where you would be able to challenge yourself by using different layouts, colours, and designs. Most of the time, the first ideas that you have aren't the most original. You most likely saw them some place beforehand. The best ideas are those where you discover them through changing and adapting the layout of your design.

Your Target Audience:
How scary is too scary? The answer to this can be different for everyone but for the purpose of creating your Halloween graphics, it is essential to know your target audience's preference. If you're targeting children and their parents, make sure to tone down the fear and horror aspect of Halloween, and instead focus on kind looking characters and bright and soft colours.

If you are creating Halloween graphics for adults and teens, there's more room for spine-tingling scenes. Just be sure not to alienate customers with images that cross the line into horror, leave a negative impression, or detract from the overall festival theme.

Your Design:
For your Halloween graphic design, you need to make sure that any pictures you are using that you have NOT created are from Creative Commons Zero sites or that you have the licensing/permission to use them. The Creative Commons Zero websites are sites where you won't have to cite where you got your pictures from and are free to edit it as you please, though they tend to like a little donation here or there for their troubles.

For colours, make sure you keep in mind the common Halloween festival colours such as purple, orange, black, red, grey, and white. For pictures or vectors, make sure to have spooky or festival like images such as ghosts, pumpkins, witches etc.

If you want to go outside the box and do something really creative, just make sure to keep in mind these tips and the overall Halloween theme!

Powered by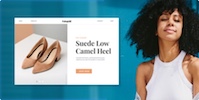 Create your own unique website with customizable templates.