Lyons New Media Centre News
Author: Kelly, Library Media Specialist
We're coming up on our 5th anniversary this fall (more news on that soon, hopefully!), so we figured it was high-time that we spruce ourselves up a bit and get our blog looking a little more snazzy. We hope you like it!

Why Weebly? To be honest, Wordpress just wasn't doing it for us anymore. Everything seemed so cumbersome at times -- especially when adding media. With Weebly, it's just drag and drop. Muuuuch quicker. Muuuuch easier. And the themes were pretty impressive here.

Wordpress served us well for years, but it was time to try something new.

You can create a blog site or regular website, depending on your needs. So far, we're liking it!

Hey, do us a favour, would you? Comment and let us know what you think? And if you're looking at this blog on a mobile device, leave us a message below and let us know how it works for you.

In

our old Wordpress site

, we'd have to click on the "add media" button, navigate to the file, upload it, add tags and things, etc. Lightboxed images never seemed to work for us. (Maybe that's a premium option? Not sure.) Here, you can add a lightbox preview to an image if you'd like with a click of a butter. Positioning the images is super easy. Like so:
Powered by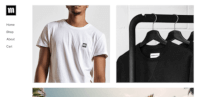 Create your own unique website with customizable templates.