Lyons New Media Centre News
~ Kelly, Library Media Specialist

For nearly seven years, Lyons's biggest feature was its 9-TV video wall. It was impressive and it got a lot of heavy use throughout the year on a daily basis, as well as during events.

But as with all things, it was starting to age and needed a bit of a facelift.

Nearly two weeks ago, the monitors were removed, revealing a large rectangular hole in the wall where they once resided. It was a strange sight that the full time staff hadn't seen since they first moved into Lyons back in the spring of 2010.

Then, just last week, the custom-built white screen with black border was hung over the gaping hole, covering it completely and very much looking like it was meant to be here since the beginning of Lyons. The companion piece was actually installed first: a state-of-the-art short-throw laser projector. Once the installation and setup was complete, we all gathered around the newly renovated and installed video wall in awe. The colours "pop". The text is really crisp and easy to read. And there are no bevels from nine monitors interrupting the display.

We were informed that we are the first in Canada to have this brand new Epson projector and custom screen. But that's so "us", isn't it? We were the first of our kind of centre in a library in Canada. And we're the first to have this new setup for a video wall. And we're pretty darned proud of it.

​Stop by if you're in the neighbourhood and have a peek!

Want to get your artwork or photography up on the new video wall? We'd love to showcase it for you! Go to our Video Wall Policies page, fill out the form, and we'll see what we can do.
Powered by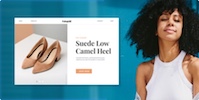 Create your own unique website with customizable templates.